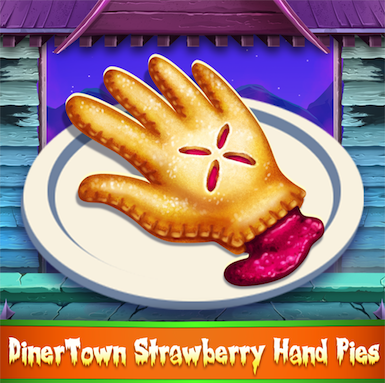 Spooky Strawberry Hand Pie
🎃 Looking for a hauntingly delicious recipe for your Halloween Party?  Look no further than these bloody hand pies! 🎃
Hungry for this in game? Check out the Hand Pies in the Halloween Edition of Game of Thorns!
🌟 DinerTown Hand Pie Recipe 🌟
1 Large Egg
1 Tablespoon Water
1 Sheet of Frozen Puff Pastry thawed
3 Teaspoon Strawberry Jam
✍️ Instructions:
Preheat oven to 400°.
In a small bowl, whisk egg with water.
Unfold the sheet of puff pastry; cut two hand shapes.
Place 3 teaspoon strawberry jam in the center of one of the hand.
Brush edges of pastry with egg mixture.
Place the other puff pastry on top.
Using a fork, merge the edges together to make a seal.
Design the hand as you would like!
Bake until pastry is golden brown and cooked through, 17-20 minutes.
Cool slightly
Inhale the hand pie until there are no crumbs left!