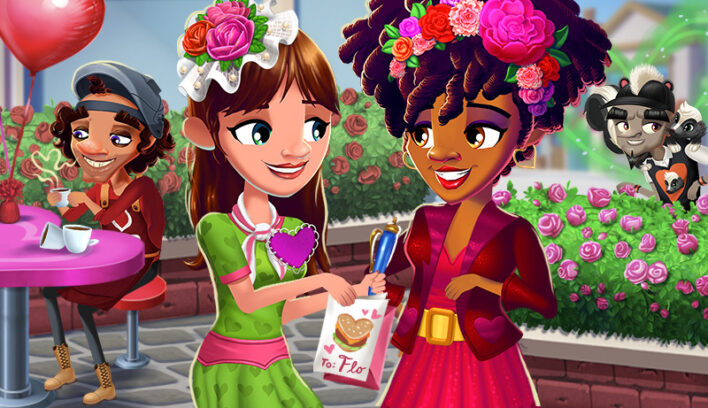 Palentine's Festival Coming Soon!
It's a time to celebrate friends as DinerTown celebrates PALentine's Day — like Valentine's Day for pals!  Decorate a fun music and arts festival area as we find out who is surprising their pal for Palentine's! Multiple people are doing something really special for the best buds — you won't wanna miss it! Make sure to scroll down and take a sneak peak of all the delectable foods that will show up for Palentine's!
And with Mr. Big looking for his lost nemesis-defeating book, we rejoin Flo and Grandma renovating Big World as Beatrix holds Skillet hostage! Decorate the theme park with gorgeous attractions and features while seeking a way to defeat Big! Devon Aire returns to — guess what — talk about how much he loves himself! It's the next chapter leading toward the stunning conclusion that decides the fate of the Bistro Bay Boardwalk and Big World!  Can Flo and Grandma save Skillet from Beatrix's evil clutches? Can they somehow distract Devon and his vanity? And the biggest mystery of all — where's the deed to the theme park? Stay tuned for the shocking answers in Diner DASH Adventures!